Monday to Thursday Dinner Party : 9pm - 1am
~
Friday & Saturday Dinner Party : 9pm - 2am
~
Weekend Brunch : Midday - 4pm

Negroni Week
A special menu in partnership with Silent Pool Gin & Campari
Avocado & Tomato Negroni
Avocado infused Silent Pool Gin, tomato infused Campari, Red Vermouth

Coffee Negroni
Silent Pool Gin, Campari, Coffee Mezcal, Red Vermouth
Sakura Negroni
Silent Pool Gin, Campari, Sakura Vermouth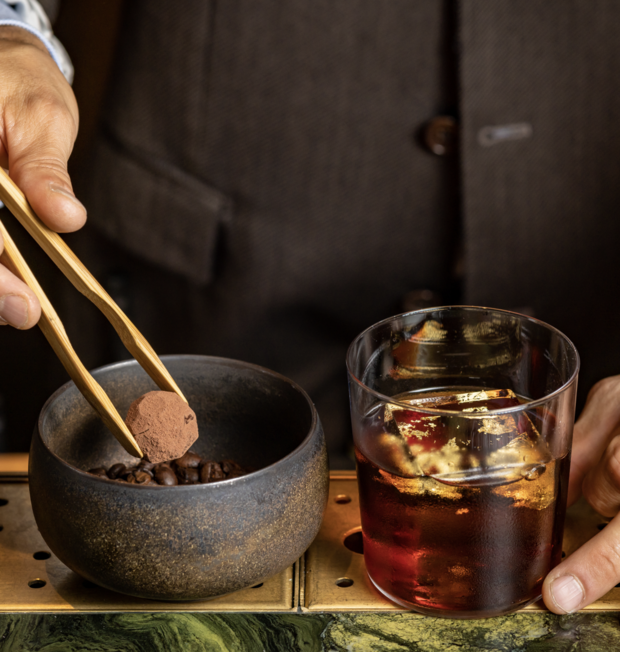 We are delighted to now feature our Halal options on our Menus page, for this summer 2023.
No. 3 Gin // Pride Perfect Martini
Join us in celebrating 3 occasions this month, with one of our favourite spirits!
Presenting the Perfect Martini (yuzu zest, sakura vermouth, No. 3 gin)
Served for all of June, Pride month
Join us in celebrating World Martini Day, on Saturday 17th June. For brunch & until 10pm, enjoy a Pride Perfect Martini for £10, with 50% pledged to Not A Phase (a trans-led, grassroots charity dedicated to awareness campaigning, social projects & funding new initiatives)
We also hope to see you on:
Friday 9th June, Hosted by Origin Bar, Singapore by Adonis Reyes
Saturday 10th June, for #WorldGinDay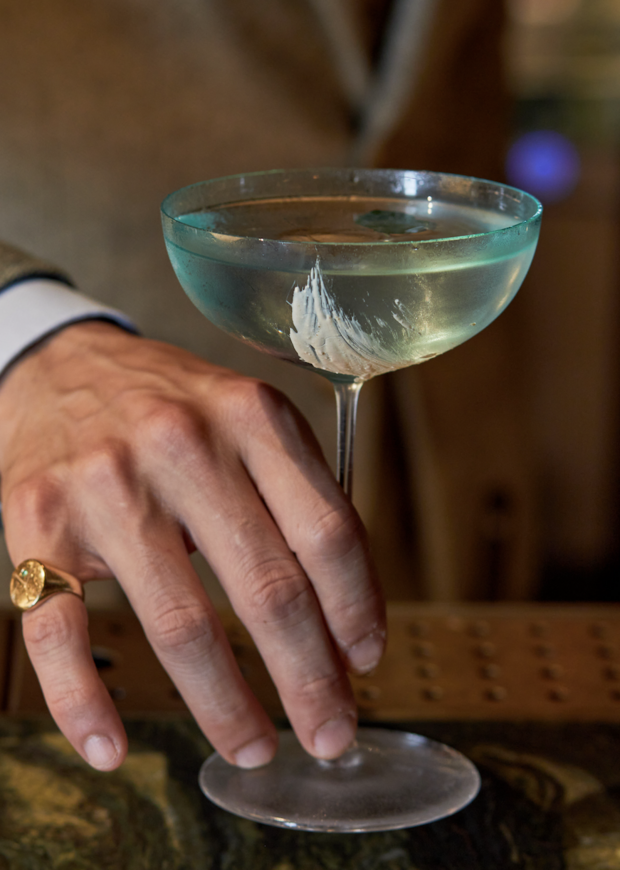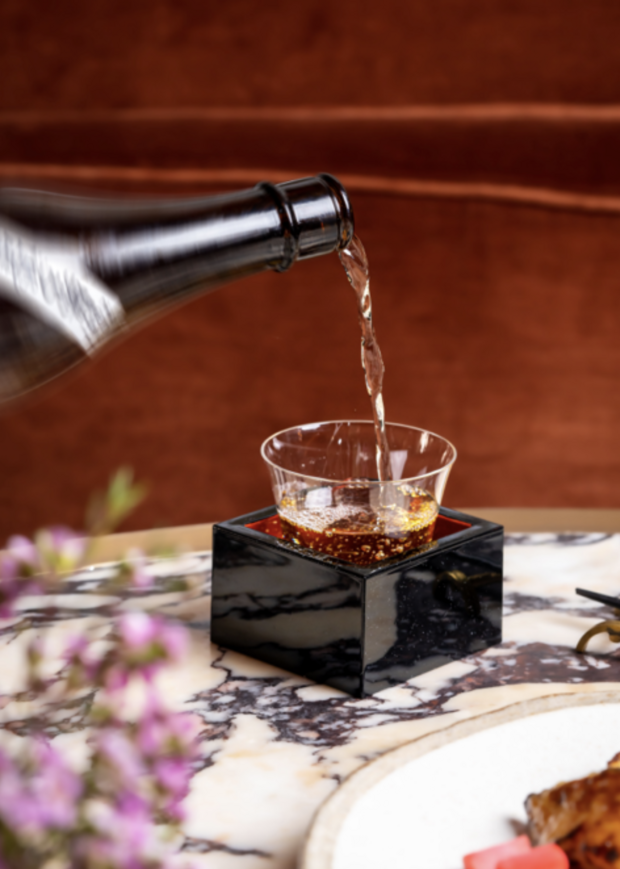 For one night each month, we partner with a truely remarkable sake brand, producer or importer.
With just 40 seats avialable in our Library, every guest recieves an intermate engaging dinner hosted by the sake's figurehead(s) and our own award-winning sommeliers.
Often we are joined by an official Sake Samurai® and members of the drinks-press too.
Our master sushi chef: Miho Sato (the only female master sushi shef in the UK) prepares a one-off perfectly paired dinner to compliment the sake expression & the cocktials made specially by our Bar Director, Pietro Rizzo.

Booking is essential, places are extremely limited
Laphroaig Whisky. A royal warrant by King Charles III
The Aubrey is proud to be the exclusive London partner with Laphroaig, single malt scotch whisky.

Laphroaig, is the only single malt scotch whisky to be given a Royal Warrant by HRH King Charles III
From Monday 1st May 2023, for 1 week, we are delighted to be showcasing 3 Laphroaig cocktails and a Laphroaig whisky flight.
On Saturday, 6 May 2023, following the coronation of Charles III, as King of the United Kingdom, we will be hosting an Experience featuring tasting sessions of 3 Laphroaig, single malt scotch whiskies paired with perfect bites, in our private Omakase cocktail bar. Co-hosted by Laphroaig's in-house whisky master.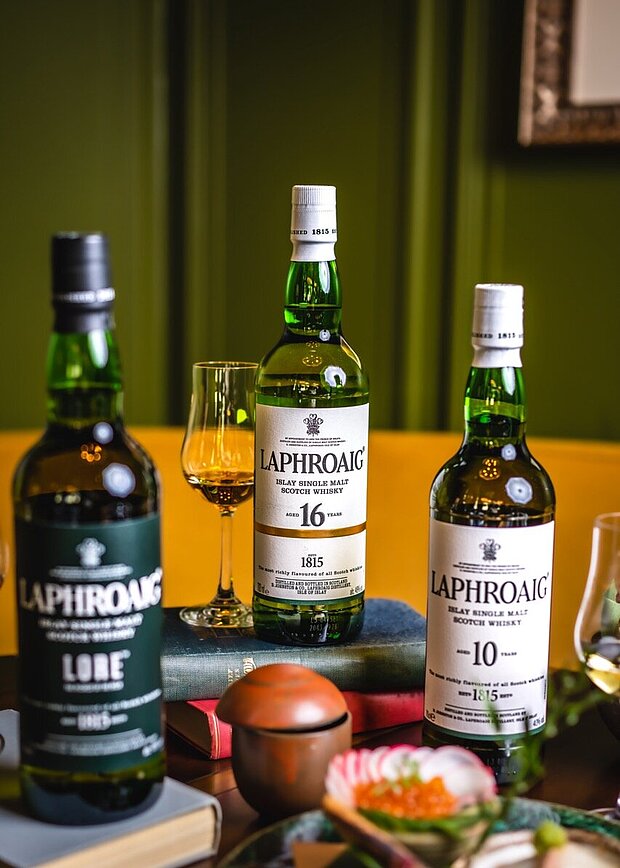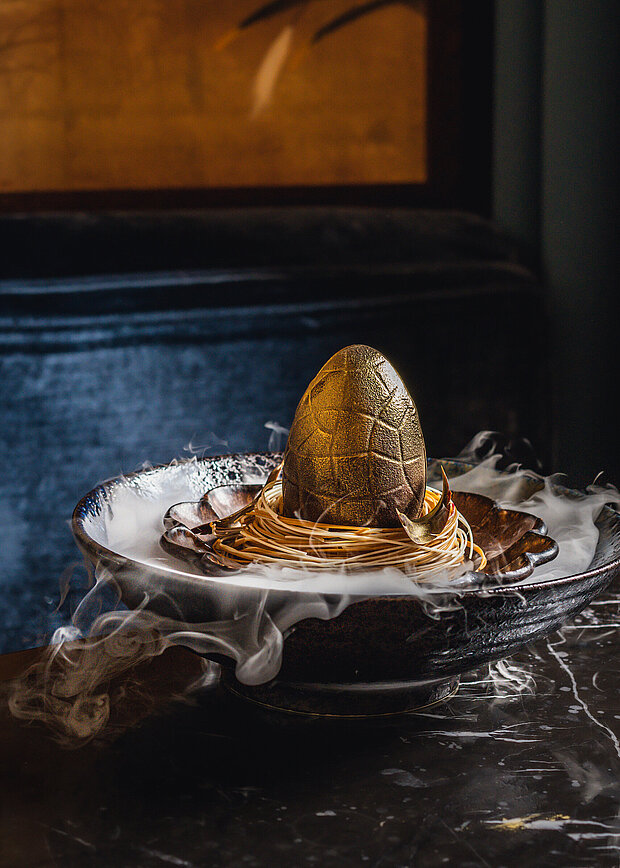 The Gilded Egg, a golden chocolate egg, sitting in a nest of hand-drawn milk & dark chocolate 'straws'. This resplendent Easter treat is filled with chocolate mousse, hazelnut praline and brownie crumble. Chilled with chocolate ice-cream.
Only 88 of our Gilded Eggs can be made each day, served from Midday, until we run out!

EASTER; Friday 7th, Saturday 8th & Sunday 9th April.
(pictured) Fuji Hakone : a chocolate topped ode; Hine cognac, Johnnie Walker Black Label, chocolate bitters, salted caramel syrup
&
Hi Mizu [Fire Water] : flaming red but perfectly chilled.
Raspberry infused Gin. Campari, Mancino Rosso
EASTER; Friday 7th, Saturday 8th & Sunday 9th April.